Karelian Bear Dogs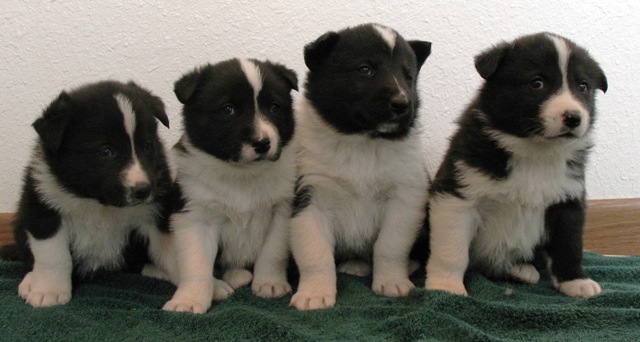 The Karelian originated in Finland, where it's regarded as a national treasure. KBD will hunt any animal. Their quick reflexes and fearless nature have made them popular for hunting aggressive game like bear, moose, and wild boar. It was the breed's ability to hunt and offer protection against a bear that earned the breed its name.
* Karelia (Karelian and Finnish Karjala; Russian: Карелия, Kareliya; Swedish: Karelen), the land of the Karelian peoples, is an area in Northern Europe of historical significance for Finland, Russia, and Sweden. It is currently divided between the Russian Republic of Karelia, the Russian Leningrad Oblast, and Finland (the regions of South Karelia and North Karelia).

Our registered stud, Big Jake was born on November 19, 2011.
We named Big Jake after a John Wayne movie of the same title. The dog in that movie was named "Dog".



Dogs as Teachers

Here are some lessons that we can learn from the lives of our dogs:
- When loved ones come home, always run to greet them
- Never pass up the opportunity to go on a joyride
- Allow the experience of fresh air and the wind in your face to be pure ecstasy
- When you're happy, dance around and wag your entire body
- No matter how often you're scolded, don't buy into the guilt thing and pout or get angry
- Delight in the simple joy of a long walk
- If what you want lies buried, dig until you find it
- Be loyal. Never pretend to be something you're not
- Expect good things out of life
- Live in the moment
- Enjoy a good snuggle and petting
- Wag more, bark less
- Rejoice in the excitement of each new day with the perpetual attitude that this is the best day ever!
- And finally...
- My goal in life is to be as good a person as my dog already thinks I am
He is your friend, your partner, your defender, your dog.
You are his life, his love, his leader. He will be yours,
faithful and true to the last beat of his heart.
You owe it to him to be worthy of such devotion.
Interested in a Karelian Bear Dog?
Contact us
here at Rockin' JC Ranch