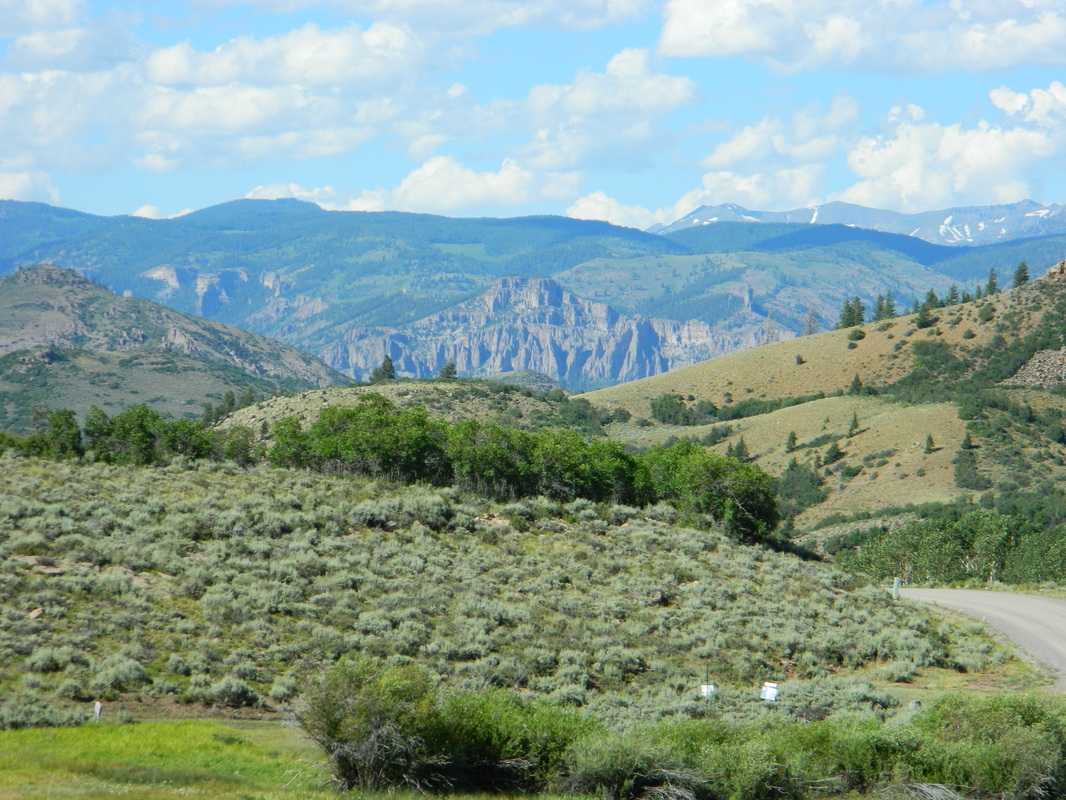 Welcome to the Rockin' JC Ranch
Gunnison CO

Joe & Cindi West, owners of the Rockin' JC Ranch, want to share our mission to ensure the future of agriculture through genetic conservation and the promotion of endangered breeds of livestock and poultry.
The breeds we have at the Rockin' JC Ranch are threatened because agriculture has changed. Modern food production now favors the use of a few highly specialized breeds selected for maximum output in a controlled environment. Many traditional livestock breed have lost popularity and are threatened with extinction. These traditional breeds are an essential part of the American agricultural inheritance. Not only do they evoke our past, they are also an important resource for our future. At the Rockin' JC Ranch, we are working to conserve rare breeds and genetic diversity in livestock through environmental stewardship.
We will also provide a 374 acre haven for heritage breeds
to come live and thrive.
Upcoming events in the fu
ture :
-Ranch Outdoor (Green) Yoga seminars "Helping you with your nature deficit !"
(Taking your workouts outside every now and then is a good way to feel rejuvenated and to give your muscles a new challenge. Studies show that as little as 5 minutes in a natural setting can increase you self-esteem, boost your mood and slash high blood pressure. So sign up today and Mother Nature will reward you!)
-Eco tourism
vacations- It is still in our nature to need nature and we suffer without it!
-Karelian Bear dog puppies
-Scottish Highland beef for sale
-Red Wattle Pig pork for sale
-
Taking deposits on 2013 pigs (see Red Wattle Pig page for details!)
And testimonials of happy customers!
-Giant Greenhouse and Garden Club
-More events to follow!
2013 Yoga Retreat Schedule for the Summer
June 15th
July 13th
Aug 3rd
Aug 24-25
(More to follow)
-
See Ranch Yoga Page for more details!
Sassy the Sow
has her own blog spot here is her first post
Howdy from the Rockin' JC Ranch! I'm Sassy the Sow and I live
on a ranch in the Colorado Rockies. I am a pregnant Red Wattle Pig
which is very special. I live with my four pregnant girlfriends and our two boy friends.
We are only seven of the 1582 registered Red Wattle's in ALL of the United
States!I wanted to let you know I shall be giving birth in May
to 13-16 piglets! I have my work cut out for me as a new mama!
Right now it is my favorite season of the year...MUD season!
I love mud! I love to romp and scamper in it and it sooo
good for my rusty red colored skin! A girl has to be mindful of her
complexion living closer to the sun.
And the mud makes it easier for me to "slip" into yoga poses,
I can't understand how my human can do those poses without
it !!!!
I shall give you more details on what is going on here at the
ranch in my next post
Hugs & Kisses
Sassy
Member of Local Farms First
(www.localfarmsfirst.org
)
Bringing the Farmers to You
You can with Local Farms First, a one-of-a-kind, online farmers market on Colorado's Western Slope. Local Farms First is a 501c3 non-profit market run by 50+ growers, with 100% of profits going directly to the growers.
Our mission is to create better consumer, wholesale and institutional access to local foods, while providing local family farmers with an easy way to sell their delicious products.
We think "outside the box," allowing customers to choose what they want, how much they want and when they want it from a wide variety of top quality, seasonal produce, meats, dairy, eggs, baked goods, processed food, crafts & more!
All of our food is chemical-free: USDA Certified Organic, Biodynamic, Certified Naturally Grown, chemical-free or well beyond any organic certification – and always locally grown and raised.
Member of the Valley Food Partnership
(www.valleyfoodpartnership.org
)
Located in the heart of Western Colorado's Uncompahgre Valley, the Valley Food Partnership is a small group of dedicated volunteers who are working together to grow a healthy community by connecting local farms to local forks.
The Valley Food Partnership includes a diverse group of stakeholders, each of whom are dedicated to growing our local food system while improving the health of our citizens and economy.
Our focus is primarily to increase the sustainable production and consumption of locally grown products on the Western Slope of the Colorado Rocky Mountains.
We locally service Gunnison, Crested Butte, Aspen, Boulder, Montrose, Delta & Uncompahgre Valley.
And we can ship to anywhere in the United States!
Feel free to contact us at:
cawest@qwestoffice.net970-641-4306 (home)
970-641-5644 (office)

We are located at 16089 CR 25, Gunnison CO on Hwy 50 by mile marker 129, the Blue Mesa Cutoff
Altitude 8316 feet above sea level
Gunnison Colorado
Mile Marker 155 on US Hwy 50
Altitude 7703
Population 5854
Motto: "Base camp of the Rocky Mountains"
Montrose Colorado
Mile Marker
94 on US Hwy 50
Altitude 5806
Population 19,132
Motto: "Quality of life is our commitment"
Visit the following link to see us on Google Maps
http://maps.google.com/maps/ms?ie=UTF8&oe=UTF8&t=m&vpsrc=6&source=embed&msa=0&msid=210868840526446274999.0004a30227502e71a6d75